Ever since our kids were born, I've dreamt of this trip. I love Africa; there's just something magical about it that tugs at my heart and draws me back. It's always been a question of 'when' and not 'if' we'd take the kids on an Africa family holiday so they could experience it too.
Having been on a beautiful trip around neighbouring Rwanda the previous year, I felt it was the right moment with our kids aged 12 and 9. They're growing up so fast, are increasingly curious and inspired by going to new places, and are old enough to appreciate it. We wanted a mix of culture, wildlife and beach so Tanzania with kids sounded perfect, especially with the lure of turquoise waters in Zanzibar to finish.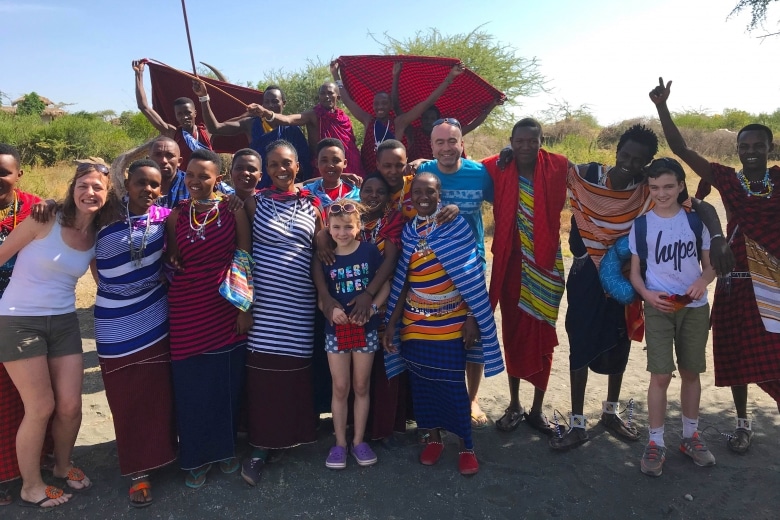 First up is the planning, which is an essential part of Africa family holidays. We opted for February half-term (plus an extra week) to escape our winter and ensure good weather for the Zanzibar leg. We always knew this trip would be a financial stretch, but with a sense that life is just too short in recent years, we skipped a big holiday the previous year, saved up and decided to go for it.
Why Tanzania works well for families
Tanzania is a great choice for families as there's no yellow fever vaccination required. On the other hand, like much of Africa, malaria exists so you'll need to take appropriate preventative tablets. We opted for 'Malarone' tablets as we've had them before with no side effects whatsoever. They're a little more expensive but well worth it. The major supermarkets sell them for half the price of the usual chemists and the kids took their tablets daily without any fuss.
Kilimanjaro
Our first stop was Kilimanjaro. We flew with Kenya Airways via Nairobi (8.5 hours) on their amazing Dreamliner, followed by a short hop (1 hour) into Kilimanjaro with Precision Air. A little tip here is to sit on the left of the plane for a majestic view of Africa's highest mountain.
On arrival, we felt pretty fresh as there's no big-time difference between Tanzania and the UK. We were met at the airport by our driver and guide who drove us 1.5 hours in our 4WD Landcruiser to our hotel, the incredible Amini Maasai Lodge project.
Amini Maasai Lodge
The lodge has 14 bungalows and is run by the most welcoming local Maasai, with income from the lodge supporting the local community. It's remote but much better for it and everybody was so friendly. Everyone made a fuss of the kids and we all felt safe and settled immediately. We flopped into the pool and relaxed for the afternoon with uninterrupted views across the savannah – a dream start to our dream trip!
At the lodge, we stayed in a traditional thatched and solar-powered family earth house. They were beautiful inside with en-suite, hot shower and fresh drinking water in re-usable flasks. With a lovely double bed, two singles for the kids and mozzie nets, they thoughtfully prepared for us each night. At night the Maasai guards keep watch around the bungalows for peace of mind.
During your stay, all home-grown meals are included and they're cooked by the local Maasai chef – they're delicious and our kids ate everything!
Activities on offer
There are heaps of activities included in each stay such as spear throwing, Maasai dancing, a local school visit and nature walk in the savannah. The walk was an experience in itself where we learned about Maasai life and came across a 10-year-old local goat herder called Kennedy, who was out all day in the heat overseeing this flock without water. Our son wanted to share his water, and Kennedy downed the entire lot in one! It was little interactions like this all over Tanzania which made our trip so special. We loved seeing everything through our kids' eyes and knowing they'd appreciate how happy Tanzanian kids are, despite often having very little.
Sunrise views over Kilimanjaro
An early morning wake up at the lodge is highly recommended. On our first morning, they brought a tray of fresh muffins, coffee and hot chocolate to our hut, then opened our doors to the most incredible clear view of Mount Kilimanjaro. Watching sunrise behind the mountain was just bliss, and we knew these were special family memories which we'll forever cherish. After a wonderful send-off (and yes there were tears – lots of them!) we set off for Karatu, our safari base for the Ngorongoro Crater.
Mto Wa Mbu village visit
On the way, we passed through Arusha and stopped at Mto Wa Mbu village, the gateway to Lake Manyara National Park. I highly recommend a walking tour through Mto Wa Mbu, so you can meet locals going about their daily lives and you'll be welcomed into their homes.
Rhotia Valley 'glamping'
In Karatu we stayed at Rhotia Valley Tented Lodge, a charming lodge which again does so much good locally. Profits support the neighbouring children's home and two local schools. This time we were staying in a safari tent (definitely glamping standard) with comfy beds and en-suite home comforts. Again the food here is all included and home-grown with freshly baked bread that everyone loved.
Ngorongoro Crater safari
We included just one day at Ngorongoro Crater as the National Park fees are fairly steep (almost $500 per day for the family including the driver and vehicle). This was another bucket list experience for all of us so it had to be done. Described by some as the best place in East Africa for safari, this World Heritage Site has a stunning backdrop and the density of wildlife you can experience here is second to none.
We got up well before sunrise and set off for the crater. Our excellent guide opened up the roof in our Landcruiser once we descended from the crater rim and off we went on safari.
What an experience of nature in action! We saw pretty much everything, from a Zebra giving birth, to gazelles rutting and lions mating. Under the lifted roof in our vehicle, it stayed pretty cool and the kids were able to stand on the seats with us and see elephants, rhinos, zebras, hyenas, wildebeests, flamingos, buffalo and hippos. For a thrilling half-hour, we witnessed lions on the prowl with wildlife fleeing in all directions.
From Ngorongoro, we headed back to our lodge. Another popular option is to continue from here on safari via the Serengeti (a more traditional and quieter safari experience). As this was our first Africa family holiday, we decided to make our way to Arusha and fly on to Zanzibar for some beach time to round off our trip.
Zanzibar beach break
The mere mention of Zanzibar conjures images of paradise, white sands and exotic palm-fringed beaches. We settled on a 10-night stay on the island, with plenty of time to explore on a self-drive in a 4WD jeep.
The most striking thing upon leaving the airport (apart from no road signs) around the outskirts of Stone Town was it was far less touristy than I'd imagined. On our drive to Matemwe (North East), we saw only locals, with faded buildings rubbing shoulders with locals markets, donkeys and chickens! We loved it.
Matemwe
We spent five nights at the new Zanzibar Magic Boutique Hotel, a superb small hotel in sleepy Matemwe with an amazing beachfront bar, restaurant and lovely pool. Again we were warmly welcomed and the staff made efforts to learn the kids' names, so they felt at home straight away. They even taught us how to play local board game 'Bao', which was a lot of fun. The beach here is lovely, but the water is shallow so better for paddling than swimming.
Kendwa and Nungwe
Next, we had five nights up north in Kendwa and Nungwe where we stayed at Natural Kendwa Villa. This is a much busier and more touristy area, but with good reason, as the water here is stunning. Calm turquoise waters, ideal for the kids and deeper so perfect for swimming.
Having a jeep in Zanzibar was handy though it was parked during most days. It gave us freedom to venture out to eat, plus take a trip to Stone Town's quirky narrow streets one afternoon. It's worth noting that there were no working ATM's outside of Stone Town, so take plenty of cash if you fancy eating locally. Our favourite meal was in a locally-run place called 'Badolinas' in Nungwe (if only for the local cows poking their heads in the window), which offers superb fresh fish and salads.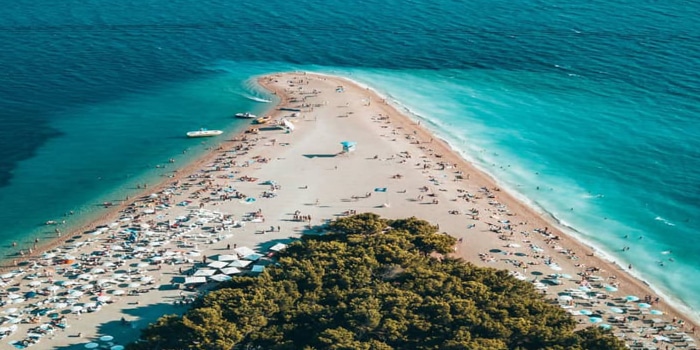 Mnemba Island boat tour
The highlight of our Zanzibar stay was a private boat trip to Mnemba Island. We saw wild dolphins along the way, then jumped in the water to find dolphins swimming all around us. Then we went reef snorkelling in turquoise waters off a pristine white sandbank – the idyllic paradise I'd always imagined Zanzibar would be!
On our final night, we headed back to Magic Zanzibar in Matemwe for dinner as we'd love it there so much. An enormous red moon rose across the Indian Ocean as we enjoyed a lovely meal before flying home, a magical finish to a truly amazing and unforgettable family holiday.
Looking for ideas to do Tanzania with kids?
If you're interested in Africa family holidays or in Tanzania for kids – we can help you put together an itinerary that's perfectly suited to all of you. We can recommend accommodation, tours, safaris and beach stays and tailor-make all your arrangements with the minimum of fuss. Have a look at our Tanzania travel guide and tailor-made Tanzania holidays for ideas, then call us on 01273 032517 or request a quote by email.